Post previous name - (C.o.C & T.I.T.S Install guide for "IOS" By Name62)
Playing T.I.T.S & C.o.C 1-2 on IOS guide - By Name62 - (NOW WITH 100% LESS JAILBREAKING REQUIRED)
"TIP": "If you follow the damn guide you will be fine"
So here we are again, the previous use of this post was to inform users on IOS how to install IPA's (T.i.T.S & C.o.C) on there iDevices and then play them with Jailbreak utilities. However this has not been possible for some time now due to a variety of reason's like,
1. Support for newer IPA game version's on iOS where dropped due to there lack of user's intrest in ios support & those skilled willing to work on them & the high cost & time they took to keep builds up to date plus work on the many other versions at the time being created.
2. The iOS of before did not at the time have a way to store saves locally & permanently like any other active operating device allows you so online play WAS AT THE TIME not feasible when losing your save's on IOS was only one browser clear history away from whipping you out save wise.
3. Jailbreaking was also a requirement many times to use said unsigned IPA's & was & still is a messy affair, many times requiring constant pc access, nowadays its to preform "soft" jailbreaks that are required every time you restart said device to boot back into said jailbreak, this coupled with the sticky nature of jailbreaking pretty much instantly drew ppl away from the idea of playing any fen games on ios through this route even though it was pretty much the only way on IOS to maintain active safe save states.
But not anymore...
SO WHAT JANKY SOFTWARES DO YOU NEED TO PLAY THESE AMAZING GAMES ON IOS IN 2022 MIGHT YOU ASK? NONE.....wait
Yep, you heard me right, you don't need any softwares/jailbreaks/IPA'S or other scetchy things as of 2022 to start playing (T.I.T.S or C.o.C 1-2) on IOS with locally saved files & your normal internet connection. yes that is the downside to this, you will need to be online 100% of the time to play any of fen games, sorry i don't make the rules.
So if your still here i guess your ready for how its done, well lets begin with...
1. How Local save Files on IOS work, sounds complicated but it's anything but.

1.1 So first off your going to want find your files app, it should look like so.
1.2 Then your going to want to find a location to make the save folder for our game saves files, putting them on your cloud drive will make them accessible across devices if you have the same icloud Acc signed in across devices or on a local PC, but for the purpose of this guide we will just be using our own idevices local storage as shown above.

1.3 So we are in the area we want to make our saves, so now we are going to make a folder by first selecting the plus icon and then naming the folder whatever you'd like, i've named it game saves for this guide. This is where you will be storing your game saves when you need to find them to play said games. If you feel like making more though it's as easy as just making a new folder and naming it whatever you like for whatever game your playing.
2. Playing web based games on IOS (example is T.I.T.S JAVA REBUILD)
2.1 So like i said from the beginning there's nothing to playing fens web based games on IOS in terms of software/programs or work arounds, just shut up, clock in & make a new game or use a old file & play some smut of your
choice
thats web based & your pretty much good to go.

2.2 So you chose the game you wanted to play and are now at the menu screen, from here you can go about starting a new game as you normally would, however if your coming back to play on a saved file this is about how it should work from start to finish, first find the data button and tap/click on it.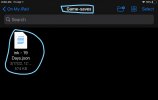 2.3 Now we have entered the game saves location of our game of choice, from here we will go into our own devices files (browse) and go to our game file location (game-saves) and select which file we wanna put into the game & if all goes well, start off where we last saved with a load complete screen.
(Note) If you are getting a invalid file error, that means the file your imputing in is not valid for said game type, this can be an issue if your trying to use say an old trials save file on the new build without first import correcting it to the new java file type on pc trials first.
3. Finding/Making a new game save file

3.1 So you made a new game and you wanna save your progress. Well that's pretty straightforward, all you need to do go to (save to file) from here you will be asked to download said file, it will then appear in your files app under your downloads, from there you can select the file and copy or move it enterally to the folder of your choice for easy storage and location when you wanna find it again.
4. Importing & Editing save files from PC to mobile, now this is where the fun begins (coming soon)
So for now that pretty much it, I hope this guide serves you well to get you started in gaming on fens web based games on mobile ios again in your game of choice, due note, there are issues
supposedly
with ios browsers though i'm yet to hit any beyond normal bugs and the one critical error i've hit so far but it does need to be said that it's a thing
-
Name62
Last edited: